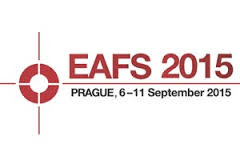 According to the motto "Pushing boundaries, working beyond borders" delegates from forensic laboratories, academies and industry from all over the world met at EAFS in Prague to discuss the latest trends in forensic science and technology.
EVISCAN too took part in the most important European conference in the field of fingerprint examination. As EVISCAN handed in a paper on contactless evidence detection, we were invited to present the latest findings of this scientific field. Thus CTO Prof. Dr. Eberhard Schultheiss held a technical lecture introducing the evidence detection using high resolution heat imaging technology to about 500 international forensic specialists. Beside the establishment of new contacts, EVISCAN gained attention from international forensic delegates which made the EAFS to a successful event.
Find out more about the EAFS 2015 here.