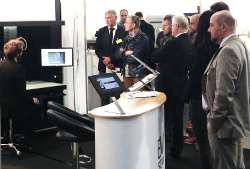 The 8th General Police Equipment Exhibition & Conference (GPEC) has been a great success for EVISCAN. From September 9th to 11th numerous visitors came to Leipzig to be part of Europe's most renowned exhibition of products for internal security, held under the patronage of the Federal Minister of the Interior.
About 500 exhibitors from 26 countries introduced their innovations in all subject fields of police equipment and security high-tech. An outstanding highlight was EVISCAN's first public live-demonstration. Visitors could get an impression of how fast EVISCAN is able to detect and preserve fingerprints on for instance a print magazine without even touching the exhibits. Developer Nils Frings was overwhelmed by positive feedback: "It was a great pleasure for me to see how fascinated even dactyloscopy experts were, when EVISCAN revealed detailed images of fingerprints that seemed invisible before."
We would like to thank all the experts who came to our booth for their time, interest and amazing feedback.