At the German State Criminal Police Office (LKA), very valuable exhibits could only be exmained with EVISCAN to avoid damage
Somewhere in Germany, a burglar is entering a wine bank. The thief is well informed, as he only takes the most valuable treasures of the collection with him. There is a strong suspicion he could have left evidence while looking closely at other wine bottles. Indeed, there are latent prints on several rarities. Examining the latent prints is a daily routine for experienced forensic scientists. Nevertheless, the usage of chemicals and adhesives would have debased the wine. Additionally, the risk of damage to the rare collector's items was everlasting as the chemicals strongly adhere to the exhibits and are hard to remove. Therefore, look at the treatment of exhibits with cyanacrylate: The vaporising superglue adheres to the latent print. Due to his high adhesive force, cyanacrylate can only be removed with acetone. A job for EVISCAN: The unique, contactless high-tech procedure preserves high-quality results with neither physical contact nor chemicals.
The Result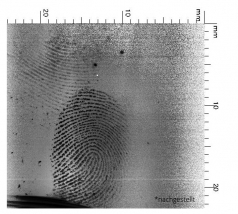 EVISCAN found 15 fingerprint residues on the expensive bottles and digitally secured them. 3 of the 15 residues could be used to prove the identity and meet AFIS standards, which leads to the identification of the donor. Due to the unique processing of EVISCAN to work in a contactless and non-contaminative way, the valuable collector's items could be examined quickly and easily, and the lost treasures could be brought back to the owner. Not surprising that the competent criminal state police officers were thrilled about the quick success and the additional evidence secured by EVISCAN. Sometimes, just one piece of evidence makes the difference.